Universal Audio 年底大放送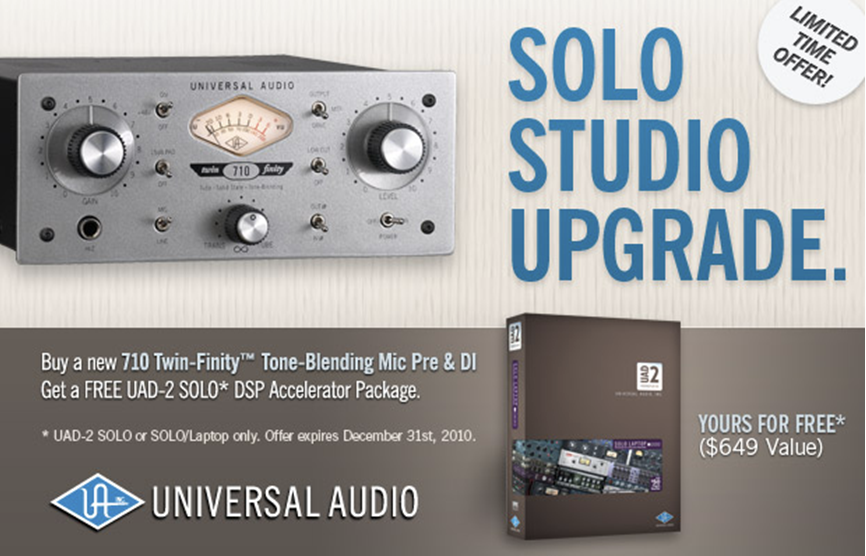 即日起,買710雙軌麥克風前級,就送UAD-2 Solo,等於省2萬,超值組合,限時特惠要買要快喔!!!
710 Twin-Finity™ Tone Blending
Microphone Preamplifier & DI Box
100% Tube to 100% Solid State — a Variable Tone Blending Mic Preamp & DI.
The award-winning 710 Twin-Finity™ is a radically new UA mic preamp design that combines both the classic retro warmth of tubes with the transient bite of solid-state, all in a 2U, half-rack unit. The 710 was created specifically to add the tonal versatility and sonic inspiration missing from generic audio interface preamps. Tone blending is continually variable between 100% tube and 100% solid-state, offering a practically infinite range of unique preamp tones, plus the ability to easily dial-in your own signature sound. There are lots of sensibly priced solid-state and tube preamplifiers out there, but the 710 is the only one that offers the best of both worlds — as well as everything in-between — all in one box, and within reach of any serious project studio's budget.
Twin-Finity™ tone-blending mic/line preamp with Hi-Z instrument DI capabilities
Dual-path 310 volt Class-A tube and transimpedance solid-state preamp
Phase-aligned "Tone-Blending" of tube and solid state sounds to suit a variety of sources
Dual Gain Stages: wire-with-gain to creamy and crunchy
Discrete JFET DI with 2.2M ohm ultra Hi-Z impedance
Monolithic balanced output stage
Universal Iinternal power supply
Heavy-duty metal construction
Backed by 1-year limited warranty